Love messages for husband: Every wife loves her husband by her heart and soul. It is good as married relationship demands for it and mutual understanding. We know wives do different things to make their husbands happy. There is no need to buy precious gifts every time. As a wife, you can also use lovely words to talk with your husband. Today is a great day to send love messages to your husband. You can get all of them below.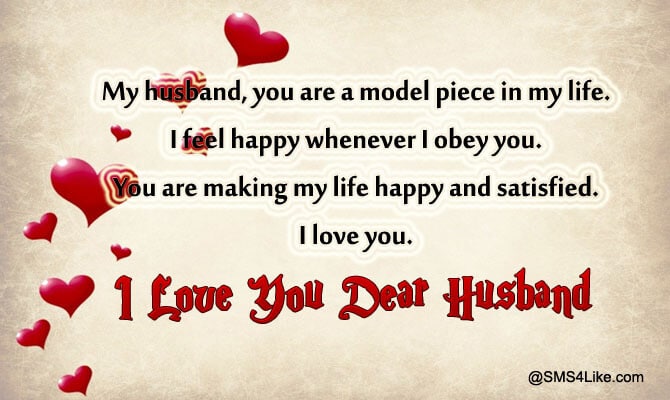 Love Messages for Husband in English
My husband, you are a model piece in my life. I feel happy whenever I obey you. You are making my life happy and satisfied. I love you.
It is a good fortune to be your wife. We know life is granted one time, and I am lucky because I am spending my life with you. I love you so much.
My heart is beating only for my husband. I am living in this universe only for my husband. I am everything for my handsome husband.
No man can replace you, my husband. Your personality is different from others. Kindly accept my love message.
Please don't go anywhere. Today is a day of love, and I want to spend it with you. May God help both of us to enjoy together.
I want to visit all the romantic places with my husband. I want to romance with my husband by visiting those romantic places. I love you, my husband.
I love everything in my husband. My husband, I love your habits, smile, personality, character, and nature.
My husband, I promise you I will never leave you. I will stand with you in all situations in my life.
Thank you for choosing me as your wife. Every girl wants to marry a man like you. You have already given everything to me. I love you.
Let's come closer to each other and share lovely things. I will share a love gift and hope for the same from you. Keep smiling and loving me.
Love Messages for Husband from Wife
God is everywhere, and He is happy to see pure love between husband and wife. We both are property of each other. I love you so much.
My husband, your personality has a lot of lights and shine. You are just amazing and great person for me. I need you and wish you to have a long life.
I love you so much and want to give you surprises every day. You deserve these lovely gifts and have more value than such gifts.
With every passing moment, my love is increasing for you. You are a love for me, and I love you so much.
I love to spend evenings with you. You give me new strength and new energy in every evening. I am proud of our relationship.
Your smile always attracts me towards your soul. Your good deeds always attract my heart towards you. Your body always attracts me towards you. My husband, I love you so much.