It is never simple to say goodbye to the people with whom you've spent most of your time. Friends are always special in one's life, and saying goodbye to them is a harrowing and sad moment. However, you can make it memorable and remarkable by sending them an excellent farewell message. You can also write a superb farewell quote on a card and give it to them. Here are some fantastic farewell messages for friends that you can send to your best friends to make your farewell memorable.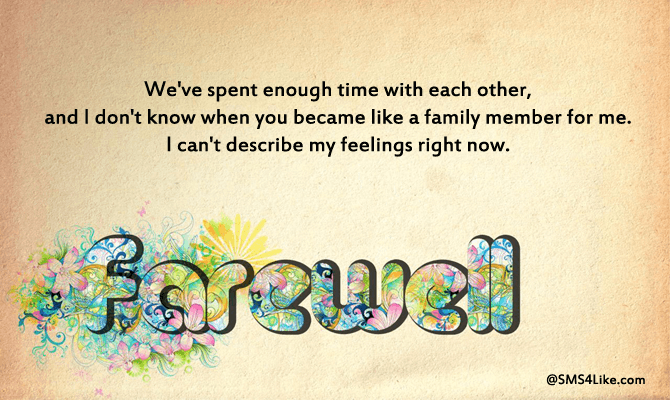 20+ Farewell Messages for Friends
Goodbyes are always sad, but saying goodbye to you is the most painful thing in my life. I'll always miss you.
We've spent enough time with each other, and I don't know when you became like a family member for me. I can't describe my feelings right now.
I wish you a very bright and amazing future, my friend. You were the closest of all my friends, and I feel real pain saying goodbye to you.
Dear friend, I'll always miss the good days we've spent with each other. The fun stuff we did with each other are the most precious memories of my life. Best of luck for your future.
My dear close friend, I'll always miss your voice, your face, and the time when we were together. I still can't believe we are leaving each other.
I know its farewell, and we will be apart from each other soon. But I hope we will continue meeting and our relationship will remain the same. I'll miss you so hard.
I really miss the good old days and wish we could live those moments again in our life. But sadly, it is farewell, and we have to say goodbye to each other. Goodbye, my friend.
Goodbye, dear friend and best of luck for your future. May God bless you with everything you deserve, and you achieve everything in your life you wish.
Real friends don't need school or college to be friends. You'll always in my heart. I will meet you regularly.
I'll never forget the moments I spent with you. We both have the same personalities. God bless you, my friend.
Dear friend, this farewell is also a chance to meet you, and I believe that life will keep giving us opportunities to meet each other over and over again. Stay blessed.
Today, on our farewell, I'm feeling unlucky as I have to say goodbye to my best friends like you. I hope you will get the best for your next life.
Goodbye, my dearest friend. It is not the ending of our friends, and I'm sure we will be in touch with each other. I always pray for you, your health, and your future. May God bless you with everything you deserve.
Dear friend, I promise you that my love and respect for you will never come to an end in my entire life. You've given me some fabulous moments, and I really miss those. Best of luck.
I wish you a peaceful and bright future so that you could get everything in your life. I'll always miss you as my best friend. Best of luck.