Wedding anniversary wishes for parents: Wishing your parents some great wedding anniversary wishes is a beautiful way to show them your love. It is the best occasion to let them know how much you love them and how much you care about them. You can also present them with a beautiful gift along with a lovely anniversary wish. It will give them the true meaning of love from your side. It is also a thankful gesture to them that they have lived together and raised a fabulous family. Here are some wedding anniversary wishes for parents which you can use.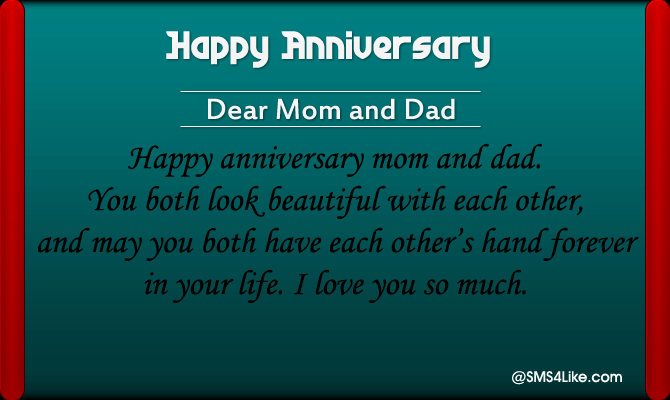 Wedding Anniversary Wishes for Parents
Your couple is my favourite in the entire world, and I always pray for both of you to live long. Happy anniversary mom and dad.
Because of both of you, I've achieved everything in my life, and its credit goes to you. Thank you.
May God give you a lot of happiness. Happy wedding anniversary to both of you. May my parents see many more anniversaries in your happy life.
Happy anniversary mom and dad. You both look beautiful with each other, and may you both have each other's hand forever in your life. I love you so much.
Dear parents, you've been my strength from the day I was born. I still feel proud and confident when I'm with you. Thanks for everything you both did for me. Happy anniversary.
I am wishing a happy anniversary to the best mom and dad in this world. Without you, I cannot even imagine living. Stay blessed and keep smiling.
A pleasing wedding anniversary to you, mom, and dad. You watered my roots and helped me being a strong person.
I love both of you so much. I want to say thanks to both of you for giving me an amazing life. Stay blessed and enjoy your anniversary.
Dear parents, I want to see your never-ending love with each other throughout my life. You both are my motivation in life. Keep smiling and loving each other. Happy anniversary to you.
Happy anniversary mom and dad. Today is a very special day for me as you both got married to each other and raised me.
Must Read: Anniversary Wishes for Sister & Brother-in-law
Marriage Anniversary Messages for Mom & Dad
Dear mom and dad, congratulations on this wedding anniversary day. I wish you to spend more and more years with each other for a stronger bond. A lot of love from your son/daughter.
Dear parents, whenever I feel lost and down in my life, I remind myself about the struggles you both did for me, and it makes me feel more energetic. Thanks for being with me in my hard times. Happy wedding anniversary.
Happy anniversary my beloved parents! You've already spent a lot of years with each other. I pray for this relation to stay forever. Keep enjoying each other's love and stay blessed forever.
Dear mom and dad, you have taught me how to love someone unconditionally. I learned a lot of things from both of you. I hope you both live together. Happy anniversary to both of you.
Congratulations to the most loving mom and day. I am very happy today and want to say that you are the best parents in the world. Happy anniversary!