On this happy occasion, you can congratulate your Parents-in-law on their wedding anniversary and express your feelings. Expressing your love can bring joy to their faces. For this purpose, we've put together a collection of happy anniversary wishes to Parents in law that you can read and share with your Patent-in-laws and express your feelings.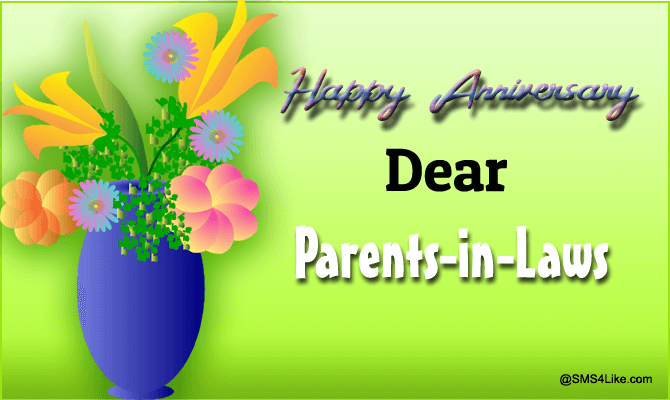 Happy Anniversary Wishes to Parents in Law
My dear parents-in-law, I would like to congratulate you on this happy occasion from the bottom of my heart. I wish you had such happy moments in your life again and again. Hold each other's hand firmly on this happy occasion and that's the main reason for your success. Happy wedding anniversary.
In this journey of love, there have been successes and losses in your life, but you have never left each other. Happily enduring every moment and building a lovely family and I am proud to be a part of that family. Happy wedding anniversary.
There will be many memories in your life that make you smile but some memories will bother you but you never gave up but continued to support each other in joy and sorrow. You are both the epitome of love. wedding anniversary.
I want to thank you both for maintaining care of me in all stages of my life. You gave me this life and you gave many other reasons for joy in my life.
My parents, my parents and my parents I only want to be with you on your anniversary. I wish you good luck and fulfillment of every desire in your lives.
You are a desirable pair in the eyes of everyone. No doubt, every married couple wants to be like you and seeking advice and want to learn about your experience.
The language of love is spoken and understands by you both in all problems and issues of life. I am feeling wonderful to see your mutual understandings and relational care.
You both are lucky because you have sincere and faithful love in your lives. Believe me, you got the most worthy gift on your marriage day which is your firm pretty relation.
Don't Miss: Wedding Anniversary to Daughter & Son in Law
I am here and wishing you triumphal wishes at your wedding anniversary. My parents, I am very grateful to you for getting married and allow me to come to this beautiful world.
I want to send you all flowers of this earth and all-stars of the sky. This is the reward for your high love and care for me. Happy anniversary to my lovely and valuable parents!
Wedding Anniversary Wishes for Mom & Dad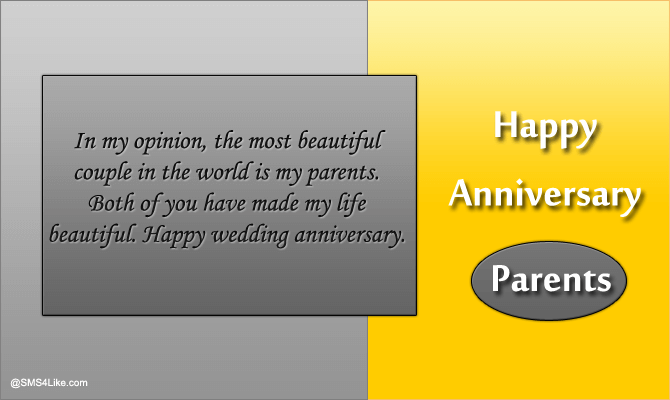 I hope this happy day will last for thousands of years in your life. You are the world's dearest parent. Happy wedding anniversary.
In my opinion, the most beautiful couple in the world is my parents. Both of you have made my life beautiful. Happy wedding anniversary.
You both spent many years. You never had a fight. You shared each other's joys and made your life happier. Happy wedding anniversary dear Parents.
Beautiful wish for a beautiful couple in the world. I definitely miss you on this happy occasion. Happy wedding anniversary.
My dear parents' Happy wedding anniversary. It is my good fortune that I was brought up under the shadow of people like you. Keep loving me I'm very happy.
My dear parents, the foundation of this good family is love, affection, and respect. I love living in this family because I have a lot of respect in this family. Happy wedding anniversary.