The relationship between a husband and wife depends on love and respect. There are countless occasions and moments which can increase love between husband and wife. One such opportunity is the birthday of a husband. It can be the best date for a wife when her husband came into this world. Today we are providing you several romantic birthday wishes for husband. You can surely share with your husband and enjoy your married life. Below the latest Happy Birthday wishes for husband in 2020 are waiting for you.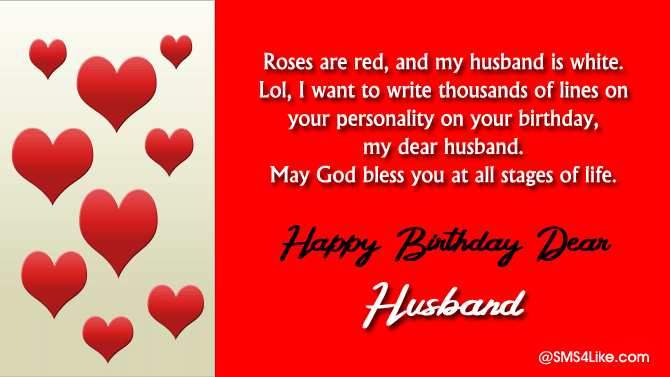 Romantic Birthday Wishes for Husband
My husband, you are my life, and I cannot live without my life. You are a source of light in my life. I love you so much.
I know your birthday and always wait for this day throughout the year. I can shout that I love you. My dear love you again and again. Happy birthday darling husband.
The candles on the cake are singing your name, my handsome husband. I want to hug you and show your importance to me. Happy birthday world's best husband.
God is one, and I am thankful to God because He chose me as your wife. My husband, you are a very humble, caring, and fantastic person. I am sure I will wish you next year too. Keep smiling.
Let's sing together and make this special day more memorable. You are my lifeline, and I am your lifeline. Cheers.
Roses are red, and my husband is white. Lol, I want to write thousands of lines on your personality on your birthday, my dear husband. May God bless you at all stages of life.
Happy birthday my dearest friend and husband. You are everything for me. I can leave everyone but cannot afford to lose you.
We will be together in all worlds. No matter how long we have spent together, our love is still young. I love you.
My husband, we have spent a few decades together. Yet, whenever my lips touch your lips, I feel like I am still young. It means you are the one who is a reason for my happy and fulfilled life.
Let's go on a love journey together on your birthday. Today is more important for me than my own birthday. I love you so much.
Don't Miss: Birthday Wishes for Brother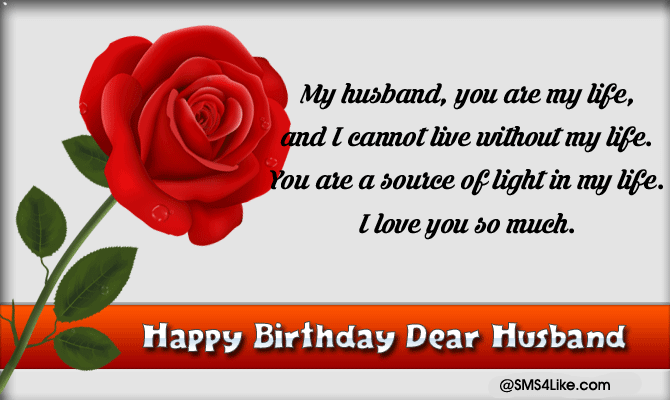 Latest Birthday Messages to Husband
Accept a lot of love and birthday greetings from your wife, dear husband. You have a much more shining personality than I thought before our marriage. Happy birthday, husband.
Today is your first birthday after our wedding. I want to come closer to you. It will help me to make this day memorable for both of us. Happy birthday and cheers.
You are a very caring man, and you know every woman wants to marry such a great and caring man. Thank you for choosing me as your wife. Happy birthday young blood.
There is nothing important than having a loving husband. I am the most prosperous girl in the world because you are my husband. You always help and support me. Happy birthday my husband.
Every year I feel proud when I write such glad birthday messages for husband to share with you, darling husband. I love this process and want to continue it until the next hundred years.
I don't need sugar because I have you to taste. You are my heart, blood, and flesh. Believe me; I always pray for you. Stay blessed.
Our mutual love is infinite, but your birthday is finite. It comes only one time a year. That's why I feel the pride to enjoy this with our special friends. Husband, you are our chief guest. Happy birthday.
A lot of birthday greetings to a hardworking husband. You are the one who never loses hope. I am living a good life just because of your support.
I want to kiss you every second today. I want to hug you every minute today. I want to give you birthday gifts every hour today. Keep smiling and be ready.
Whenever I wake up and see your face, I recharge my power for daily tasks. You are my charger and power source. Thank you very much, caring husband.
Top 10 Birthday Quotes for Dear Husband
I can never feel upset because you are with me to hold my hand. My heart beats with your heart. I am thankful to God for producing so much love between us. Happy birthday, husband.
Happy birthday wishes to you, my husband. I love your eyes, smile, personality, and behavior with me. You are great and a rocking star.
Every day is unusual for me because I am with you all days. The world is nothing for me if I am not with you. I wish God grant you a long life.
Whenever you come closer to me, I feel everything of this world near me. I cannot express my feelings and emotions for you. Happy birthday my husband.
You are lucky because I am your wife. I am fortunate because you are my husband. We are the most fortunate couple in this universe because we both are blessed. Happy birthday.
There are hundreds of things which I can appreciate about you. You are responsible for every charm we find in our kids. Happy birthday my husband.
Our kids are the most successful kids because they have such a caring father. I am proud of my decision as I chose you as my life partner.
I want to see dozens of dreams about you every day. These are necessary to make our lives more pleasant and fruitful. God bless you, my husband.
I don't have words to wish you on your birthday. But I can hug you for sure. My heart will convey everything to your heart.
I love to rely on you. You are the one who is my treasure and my confidence. I cannot afford to lose you at any stage of my life. Happy birthday my husband.