Love messages for wife have great importance. The relation between husband and wife depends on true love and care for each other. There should be different happenings, events, and actions between husband and wife to enjoy the married life. Among other things, love messages for your wife are most unusual. We are providing several such love messages which you can share with your life partner.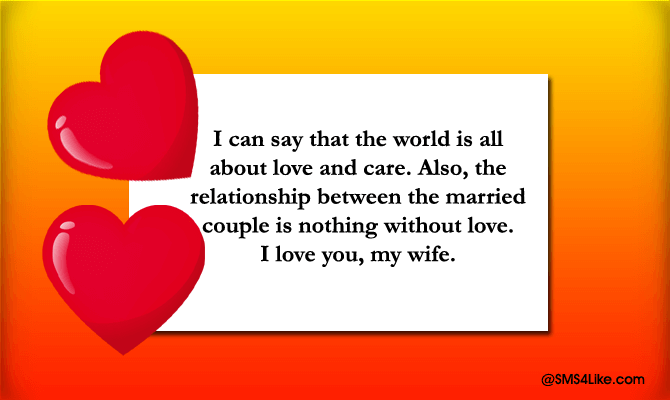 Love Messages for Wife in English
My wife, you are everything for me. I cannot imagine living without you. I love you so much and want to hug you every hour. I love you.
I can say that the world is all about love and care. Also, the relationship between the married couple is nothing without love. I love you, my wife.
Every night when I see your face, I feel happy and lucky. It is because I can see the beauty of the moon in my room. Stay blessed.
I am thankful to God as He made us a wife and husband for each other. This is the most significant achievement in my life.
I can leave everyone in my life. I can live without money and relatives. However, I cannot live without my wife. My wife, you deserve love, kisses, and hug.
We both are lucky because we love each other and take care of each other in the best possible way. These things are enough for a happy life.
Come and check the depth of love in my heart, which is only for you. My soul, body, and feelings are only for you. I love you, my beautiful wife.
There is no need for any other human between us. We are spending a great and satisfying life. May God increase our mutual love.
I can say that lovely weather always argues me to come closer to you. My wife, I am proud of you and wish you to have a long life.
I love you, sweetheart. I miss you every time when I don't see you in front of my eyes. You are a queen in my life.
Deep Love SMS for Wife from Husband
I want to write love messages for my wife but don't have words to express my lovely feelings. I am glad because these sentences are enough. I love you.
I am sure God will grant us a long, happy life. We both are caring and take care of each other. These actions of love will undoubtedly increase our life.
My wife, don't sad because I am always with you. My desire is always growing for you day by day. I love you so much.
My wife, your importance for me is more than gold. Your presence has a more prominent value for me than a million dollars. I need you and love you so much.
Come and share your feelings with me, my wife. I will do the same for you. It will help us to enjoy our married life in a new way.