Today is the day of Jumma. This is a very blessed day for Muslim. On this day, Allah has special mercy on Muslims. God loves their servant so much that He gave them Friday. In this post, I am sharing many prayers that you can share with your friends and relatives on Friday. You can read Jumma Mubarak Dua in Urdu and English.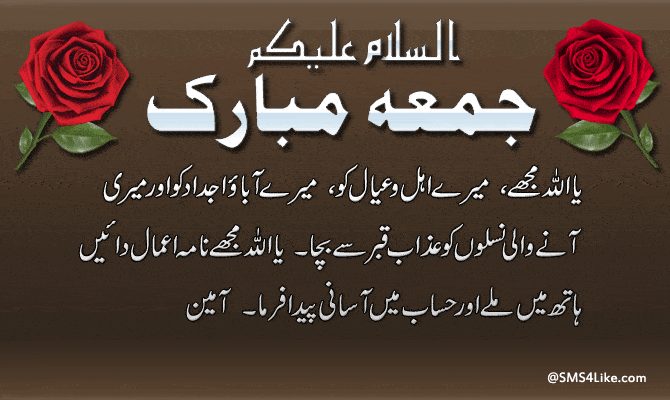 Jumma Mubarak Dua in English
O, my Lord, I am your sinner, I seek your mercy, I ask you for the forgiveness of all my sins, so you accept my prayer on this lovely day. Ameen. Jumma Mubarak.
O my Lord, bless us through this day and grant us a place in Paradise for our Muslim brothers, sisters, elders and children who have passed away, and make things easy for us on this day. Ameen. Jumma Mubarak.
May God make this Friday a source of mercy, forgiveness and forgiveness of all our sins for us and our family. Amen. Happy Friday.
O my Allah, grant me that which is best for me, and give me Halal food forever and make me a helper of others and soften my heart for all. Ameen and Jumma Mubarak.
O my Allah, it is enough for my honour that I am Your servant and it is enough for my pride that You are my Lord and that you are what I want you to be. Just make me the way you want me to be. Ameen. Jumma Mubarak.
O my Lord, make me forebears and thankful and make me small in my eyes and great in the eyes of others. Ameen. Jumma Mubarak.
O Allah, I ask You to give me a pure life which is spent in obedience and gratitude to You. O my dear God, help me to do good deeds which are honourably accepted before you. Ameen. Good Morning and Jumma Mubarak.
My God, never leave me alone in any situation, in trouble, in happiness, in comfort. Always look at me in the eye of love. Forgive my small and big sins. Ameen.
Don't Miss: Islamic Jumma Mubarak Quotes
O God, we thank You for the life that has passed and we seek Your Mercy for the life that is left. Open the doors of Your Mercy to all of us. Ameen. Jumma Mubarak.
Always ask Allah for what is best for you, not what you desire. Your desire may be less and your right may be greater. Good Morning and Jumma Mubarak.
Jumma Mubarak Dua in Urdu
Aik khoobsurat dua or Ameen.
Ya Allah mujhe, mere Ahl-o-Ayal ko, mere aabao ajdad ko or mere Aanay wali naslon ko azab e Qabar see bacha.
Ya Allah mujhe nama e amal dayein hath main milay or hisab main asani peda farma. Ameen. Jumma Mubarak.
Jab Aap wakei dunya ki nisbat Aakhrat ko ahmiyat detay hein to Aap un logon ko ma'af kr detay hein jinhon ne Aap pe zulm kia he or wo log jinhon ne Aap ko naraz kia he. Jumma Mubarak.
Dua ki 3 pehlu hotay hain. Ya to Qabool hoti hain ya Akhrat Ke Liye Zakheera Kr li Jaati Hein. Ya Museebat Ko Taal Deti Hein. Rad Ni Hoti. Jumma Mubarak.
Ae Allah Tujhe Tere Mehboob Ka Sadka Hamare Sagheera Kabeera Gunaho ko Maaf Farma. Hamen Apne Samnay Jhuknay ki Taufeeq Ata Farma. Ham per Reham Farma, Karam Farma, Asaani Wala Ma'amla Farma. Ameen. Jumma Mubarak.
Assalam Walekum. Beshak Dilon Ka Chain aur Sakoon Allah Hi Ke Zikar Mein Hai. Allah Aapko zameen aur Aasman Ki Tamam Aafat Se Mehfooz Rakhe. Ameen. Jumma Mubarak.
Jumma Mubarak Dua Messages
O Lord of the universe, O Almighty! Always keep my loved ones and friends in the shadow of your grace. Protect them from all diseases and keep them healthy and settled. Keep their faith safe and save them from every trouble. Ameen. Jumma Mubarak.
Seekers of peace, believe me, peace is found only in prostrations. Happy Friday. Remember me in your prayers.
Assalam Alekum. May Allah bless you with more happiness than the stars of the sky and the waves of the sea. Ameen. Jumma Mubarak.
O Allah, grant today's Muslims truthfulness like Hazrat Abu Bakar (R.A), the ability of justice like Hazrat Umar (R.A), modesty like Hazrat Usman (R.A), bravery like Hazrat Ali (R.A). Ameen. Jumma Mubarak.