The first birthday of every baby is memorable for parents. This is a unique birthday experience in the life of the baby and parents. We know that the first birthday of your baby is near and you are looking for the top best ways to celebrate it.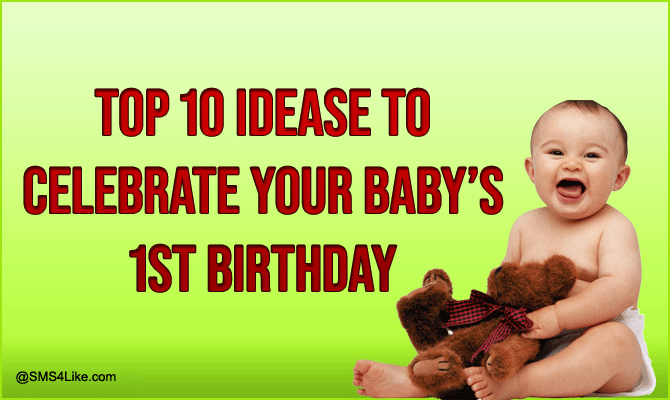 Top 10 Wonderful Ideas to Celebrate Your Baby's 1st Birthday
Today we will provide you with top in-budget and unusual ideas and tips which you can utilize to enjoy with your baby on his first birthday. Let's have a look at all of them below.
1). Have a photoshoot
You can consider a photoshoot of the first year birthday party. These photos will make this event memorable and amazing. Don't need to spend a large budget; you can use your digital devices to capture beautiful moments.
2). Celebrate with your baby
You know your baby is everything for you and today is a special day for her/him. You must do different things to increase your enjoyment level with your baby. Make sure your baby is also enjoying the birthday party. You can arrange different funny things to make it a memorable birthday.
3). Keep it short but sweet
Your baby is only one year old, and you must realize it. Don't put any type of pressure on your baby. Also, try to make the birthday party timings short. You can invite kids and other babies to make the first birthday of your baby more enjoyable and sweet.
4).  Ask for help
It is good to ask for help from your family members to arrange the first birthday party of the baby. You can seek advice from elders and try to gather suggestions from everyone. It will help you to make the best birthday party celebrations for your baby.
Don't Miss: Romantic Birthday Wishes for Husband
5).  Keep it simple
The first birthday party of your baby should be simple. Never forget that your baby is only one year old and you cannot afford loud music, noise and other disturbances for your baby. It may affect the health of your sweet baby.
6).  Enjoy yourself
Most of the parents are not able to enjoy on the first birthday of their baby. It is because their full attention is towards the baby. However, it is not a good idea as you must enjoy the birthday party. You are the reason for the birthday of your baby and try to have all the things at the birthday party which give you pleasure.
7).  Plan everything in advance
It is better to plan everything earlier than the birthday. It is vital as you can take better decisions and make better arrangements if you have enough time. You can invite special family members and prepare special eatables for them.
8).  Give a gift to your baby
You should give a beautiful gift to your baby. It will make the birthday memorable and more amazing. Keep in mind the interests of your baby and then choose a related gift for him/her.
9).  Select a lovely theme
Every birthday party has a theme, and your baby's first birthday should have a lovable theme. You can search and find hundreds of different themes ideas for your baby.
10).  You can go for an outing
Going outside with your baby is not a bad birthday idea. You can take your baby to enjoyable places according to the interest of your baby. You can take photos to make this birthday memorable.
I hope you will find the above ideas to celebrate your baby's 1st birthday helpful. If you have enjoyed then please share to your friends and family member.