Friends are a special part of life. All the events of our lives are special just because of our friends. This is the same when it comes to a friend because we make our friend's life special. Like other events, you can also make your friend's birthday special.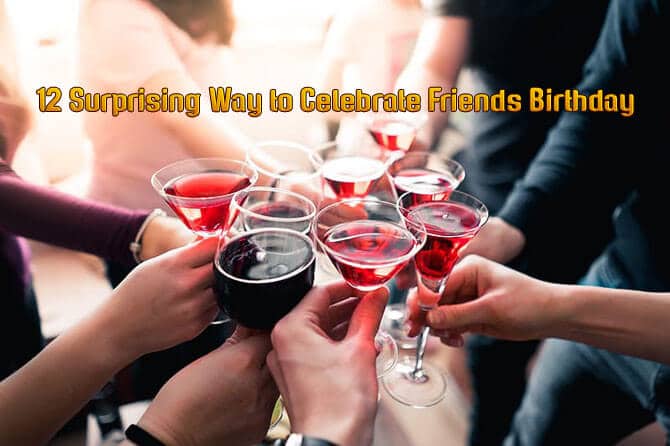 12 Surprising Ways to Celebrate Friends Birthday
There are different ways to celebrate your friend's birthday to help him/her. Today we will discuss all those tips and ideas to help you to celebrate your friend's birthday with full fun.
1). Go outside together
You and your friend can go out on his/her birthday. Going outside is an excellent idea because you can visit different places on a single day. You can choose the best and enjoyable places before the birthday of your friend. Then you will be able to go to the right places with your friend and help him/her to celebrate their birthday.
2). Make an animated video
You can make animated videos having all the beautiful moments you and your friend spent together. This is a grand idea if you really want to please your friend. Always try to capture shots of your happy meet together. This will help you to make animated videos of short duration for your friend's birthday.
3). Invite your friend on their birthday party
You can book a special event and arrange a proper birthday party at your friend's birthday. Your friend will be happy to come to your place, and you both can enjoy together. It is the best way if you can also cook some special birthday meals for them.
4). Have a tea party
You need to meet with your friend on their birthday. No problem if you cannot arrange a big birthday party for them. You can simply invite your friend on a tea birthday to make his/her birthday memorable. You can present some sweets and a hot cup of tea/coffee to your friend.
5). Recall good memories
You can play a vital part in making your friend happy on their birthday. A friend's birthday is all about enjoying together and share great experiences with each other. You can go to a new place and spend a few hours together. It will enable both of you to enjoy birthday celebrations.
Don't Miss: Birthday Wishes for Brother
6). Give them a sweet surprise
Friendship revolves around sweet surprises, care, and love. You must give your friend a surprise on their birthday. The surprise depends on your friendship and makes sure your friend will like your surprise on his/her birthday.
7). Schedule a movie night
A movie night can be a great end of the birthday of your friend. You can book tickets for a movie which your friend wants to watch. Go to the theatre early and spend some time there to share lovely memories between both of you.
8). Send a birthday cake
The cake is an essential part of every birthday celebration. There are different types of birthday cakes. You can purchase a birthday cake which your friend likes. You can also write his/her name on the cake to express your feelings for them.
9). Make a phone call
If your friend is not with you, you need to call him/her on their birthday. Yes, it has a significant effect on your friendship. You can call your friend and share warm wishes for them in the best possible way. Don't just rely on text communications and social media posts to say happy birthday my friend.
10). Send them a birthday card
Birthday card and birthday photos have their great importance on the birthday. You can design special birthday cards for your friends. You can add his/her pictures on the card and wish them a happy, satisfying life in the future.
11). Use special balloons
Balloons add different colours to birthday celebrations. No birthday celebration and party are complete without colourful balloons. That's why you can send special birthday balloons to your friend. Try to send hundreds of balloons to them as a large number of balloons will show your affection for them.
12). Celebrate inside the sea
If you want to make your friend's birthday memorable, you should visit the beach. Visiting the beach and celebrating birthday inside the sea are great ideas to enjoy. You and your friend will enjoy every single moment, and it will be a memorable birthday for him/her.