Good morning messages for wife: Every boy wants to get married as soon as possible. It is because boys know they need their wives to make their mornings full of pleasure. Now, as you are married and looking for lovely good morning messages for your wife, we can help you. You can get recently written morning messages to share with your wife. Let's have a look below.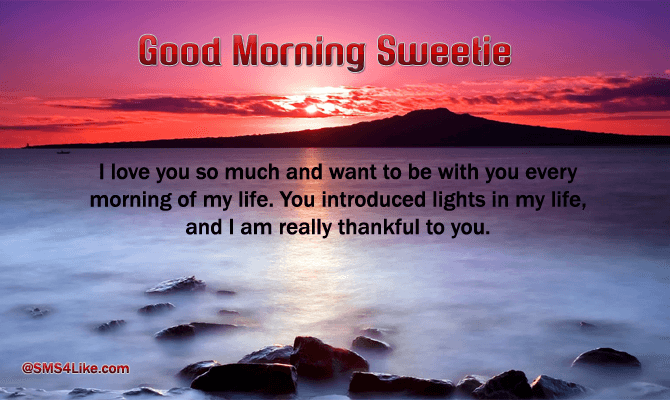 Good Morning Messages for Wife
My wife, you are the most beautiful woman in this world. The light of your personality is more than sunshine this morning. Good morning to you.
I can write that my wife is my pleasure. I am nothing, and my life is totally waste without you, my pretty wife. I wish you to have a great morning and a good day.
My wife, I want to say that I am always with you. You don't need to worry as I am ever with you in all conditions of our married life. God bless you.
I love you so much and want to be with you every morning of my life. You introduced lights in my life, and I am really thankful to you. Good morning to my wife.
I love to start my day by wishing you a good morning message. My mornings are incomplete without wishing you and kissing you. Have a great day.
I am thankful to God because He is responsible for our marriage. I am so lucky because you are the mom of my kids. I love you so much.
I am coming to hug you and wish you a good morning. I always think about you all mornings, noon, evenings, and nights. Accept my best wishes.
You know I wake up only because I know I will hug you. My life is all dependent on you, and you take care of me. This is everything that I need.
I wish to have coffee with you from the same cup. This action will be helpful to make our mornings full of love and enjoyment.
Our married relationship is all based on our romantic good mornings. I love the ways you wake up and hug me. Accept good morning wishes, which are only for you.
Romantic Good Morning Wishes to My Wife
Good morning to the most stunning woman in this world. Your personality is attractive, and Sun wants to salute you in this morning. Have a great morning.
Please don't go anywhere and enjoy this morning with me, my wife. You are so beautiful, and I want to hug you for a long time.
My wife, love is life, and your kisses for me are breath. I keep waiting for mornings to receive kisses from you. Have a great day.
I see you in my dreams when my eyes are close. I see you in front of my eyes when I am awaking. I am cheering to have you as my life property. Good morning.
I don't need breakfast in the morning. The face of my wife is enough to give me power and courage for daily tasks. My wife, accept my best wishes for your good day.