Every student in this world wants to pass the exams with a great score. However, it is not an easy task. Most of the students do not study for the whole year and waste their time on different things. When exams are near, they start studying which is not good enough to pass with a great score. However, if you encourage your friends, your brothers, sisters or any relatives by wishing them good luck for their exam, it will surely help them. Perhaps they start more hard work after receiving some good luck wishes from you. Here are some amazing and magical good luck wishes for exams.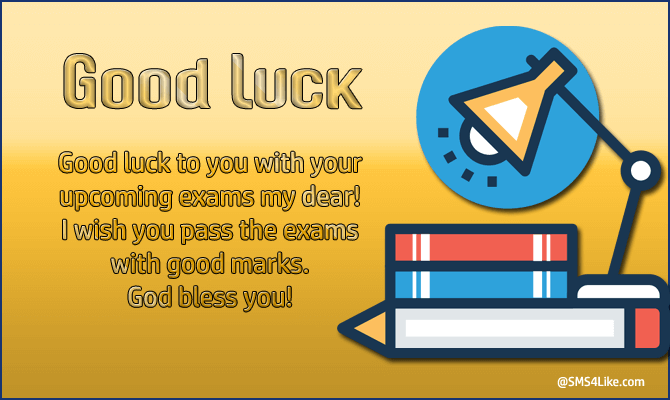 Good Luck Wishes for Exams
Don't be afraid of exams my dear! Just treat your exams well by giving proper time to every subject. Good luck!
Good luck to you with your upcoming exams my dear! I wish you pass the exams with good marks. God bless you!
I know you are a hardworking student and have passed your previous exams in a good percentage. Good luck with this exam too.
Never give up on your life. You have an opportunity to make your future bright by passing this exam in good grades. Good luck!
Good luck to you for your exams. Do hard work and don't overthink about them. Take it easy and keep your hard work at its peak.
My dear, I believe in you that you can easily pass this exam with great marks. Don't take it too easy! Good luck to you!
All you need is to provide enough time for each subject. Also, don't forget to revise. I wish you good luck for your coming exams.
My dear, good luck to you for your exams. I advise you to learn all the things by writing them on a page. It will provide you a great memory of learning things by heart.
Your exams are near, and you don't have time to waste. Now stop playing games and wasting your time on nonsense stuff. Prepare for your exams. Good luck!
Good luck my dear! You will have to work by day and night to pass the exam with a good percentage. It is not an easy task. Do great hard work.
Best of Luck Wishes for Exam
My dear, the exam is not the name of finishing a year of your studies. It is a chance to do the best effort in the exams to get your achievements. Good luck!
Good luck to you! The exam is the moment when you can learn a lot of things and can make a way to your bright future. So, make the greatest of it.
My dear, I know you are very hardworking, and you have an extraordinary mind too. Just do a little effort and finish this exam. My prayers and real wishes are with you.
I expect an outstanding result from you for this exam, but for such a result, you will have to do enough hard work. Good luck!
I know your exams are coming and the stress is bringing you down. Just think about your studies and provide it enough time to pass. Good luck to you my dear!
My dear, don't depend on luck as you are not always lucky in the exams. Great students work hard to pass the exams not depend on their luck.
You have enough time to make a great result and surprise everyone. Make the best of this time and work hard till you succeed.
My dear, don't overthink your exams. After these exams, you have great opportunities to make a bright future. Good luck to you!