If we love someone or care for someone, we want to spend most of the time with them. We also find different ways and events to connect with them. Fortunately, there can be different occasions when we can show our feelings for the other person. Nighttime is one of such occasions, and we have it every day. We can use different words to say good night to others. We can also use different ways and adopt different ideas to show good night feelings to our special ones.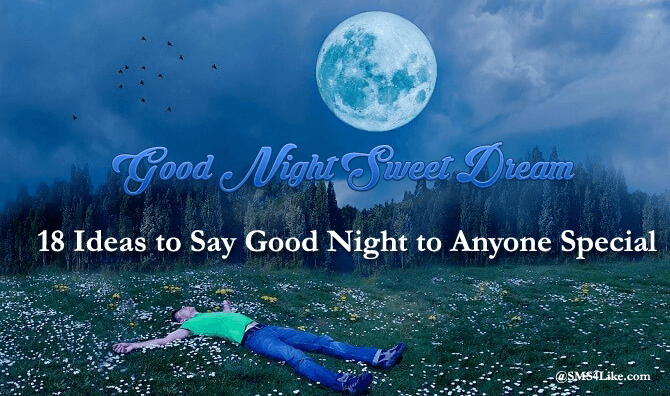 18 Amazing Ideas to Say Good Night to Him or Her
In this article, you will get 18 amazing ideas to say good night to anyone special in your life. Let's have a look at all the following points.
1). Send messages
Sending messages is a great way to say good night. You can write exceptional words and good night wishes to show your affection for others. It does not matter whether the other person is with you or away; you can convey your lovely night messages to others using different ways and technology.
2). Sing a song
The night is a good time to sing a song for your loved ones. It is an excellent way to say good night to others. You can sing a good night song or other famous songs to convey your warm wishes for having a good night.
3). Call by nicknames
Almost every one of us has nicknames. Usually, nicknames show the love and care of someone else. At night, you can call your partner or other people by their nicknames. You can sweetly call their nickname and say good night.
4). Give hugs
Giving hugs to someone who is special in life can be considered an excellent way to say good night. You can talk to him/her and then say good night with a sweet hug. It will surely help both of you to have a peaceful night.
5). Use night lights
There are different types of night lights that you can use to decorate your room. You can specially decorate your room to express your feelings for others. It will also deliver a satisfying gesture that you want the other to have a good night.
6). Love Note
If you want to make the night memorable with another person, you must write a love note for him/her. There are several things which you can write in a love note. The only matter is to make sure that you add good wishes for others to have a comfortable night.
7). Poem
You can also sing a poem for the other person. It is just like singing a song, but it has its own style. You can select and memorize a particular night poem to sing in front of someone. It is a unique and memorable way to say good night to others.
Don't Miss: Good Night Messages for Lover
8). Read Book together
If you want to say good night to another person, you can read a lovely night book with him/her. You can enjoy special stories in the Book with that other person or tell him/her about the book's love theme in your own words.
9). Dinner
If the other person is with you, you can have dinner with him/her. Having a special dinner with someone is also a way to show best wishes for a good night. It will allow both of you to spend a good time together and enjoy each other's company.
10). Give pillow
It is night-time you want to say good night to others, you need to give pillow to that person. You can choose a new pillow and give it to him/her for better sleep.
11). Share feelings
The night is an excellent time to spend with family members or other persons you like. It is also considered an appropriate time to share your feelings with others. You can share your care about family members, friends, or any other person. This will also help to have a good night and sleep comfortably.
12). Bedtime story
Bedtime stories are always good to say good night in a different way. There are different types of bedtime stories, and you can choose a different story every night. These will help both of you be ready for sound sleep and help to have a good time together.
13). Night massage
Night massage is another fantastic way to say good night. You can use this physical way to say good night by giving a massage to the person. It will give him/her comfort and promote happiness between both of you.
14). Night kiss
If you are going to say good night to someone special in life, you must also think about the kiss. You have to come closer to each other and share the love by hugging and kissing one another.
15). Solve a puzzle
Studies show that solving a puzzle makes your brain ready for sleep. However, time matters a lot, and you should solve a puzzle with that other person just before your sleeping time. It will be good for both of you, and you will help each other appropriately.
16). Use social media
Social media have everything which you need to wish your life partner, friend, or other relatives. You can use social media to get different videos, photos, stories, or other things to share with someone special in your life.
17). Good night game
Good night game can be any game that you can another person wants to enjoy at night. You can plan different games for each night in advance. You can add unique attractions to the game to enjoy it.
18). Plan for tomorrow
Planning about tomorrow is another suitable way to say good night to others. It includes everything which is the same about you and that other person. You can share best wishes for him/her about the upcoming morning.