Hello Friends How are you. What are you doing now. Here  I am going to share some Beautiful Hindi Love sms for Wife 140 Character. You can read these messages free of cost and also share to every one on Facebook, Twitter, StumbleUpon, Google Plus etc. Read and enjoy life.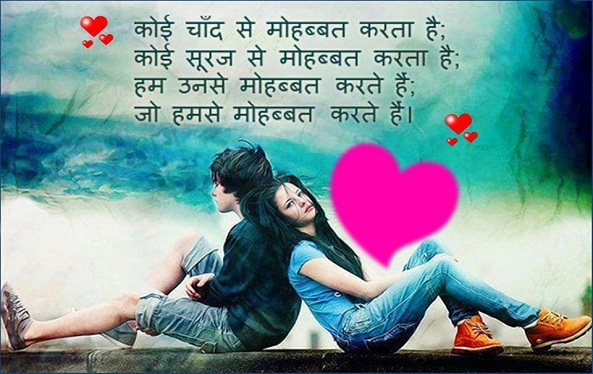 Hindi Love sms for Wife 140 Character
Roothi Jo Zindagi To Manna Len ge Hum,
Mile Jo Ghum wo Seh Len ge Hum,
Bus Aaap Rehna Humesha Saath Humaare To,
Niklte Huye Aaansuo Mein Bhi Muskura Len ge Hum.
---
Aggar wo apni Mohabbt Hamen banaale,
hum Un ka har khawaab apni palko Pa Saja len,
kre gi kese maut hamen un say juda,
Aggar wo hamen apni RooH mein basaa le.
Aaap ki aik Miss Call ek din ki khooshi,
Aaap ka aik SmS 1 week ki khushi,
Aaap ki aik call 1 month ki khooshi,
Aaap ki aik mulaqaat aik year ki khushi,
Aur Aaap ka pyaaar umar bhar ki khooshi.
---
Heart Touching Lines for Me:
Pyaar Karne Kay Liye To Yeh zindagi Itni Choti Pedh Jaati Hai,
Pata Nahi Log Nafrat Kay Liye Kese Time Nikaal Laite Hein.
---
Mein Hawa Se Pyaar Karta Hun,
Kiyon ke wo Tumhey Chhooti Hai,
Mein Sooraj Se Pyaar Krta Hun,
Kiyon ke wo Tum Par Girta Hai,
Mein apne Dil Se Pyaar Karta Hun,
Kiyon ke wo Tum say Pyaar karta Hai.
---
Tum dil say hamen yun pukaara na karo,
Yun tum hamen ishaara na karo,
Door hein tum say ye majboori hay hamari,
Tum tanhayon mein yun tadpaaya na kro.
---
mujhe in patharo ka der na hota,
aggar sheeshe ka mera ghar na hota,
yaqeenan hum bhi khelte payaar ki baaji,
aggar dil tootne ka dar na hota.
---
Tadap ker dekh kisi ki chaah main,
pata chale payaar kiya hota hai,
mil jaaye her koi yun hi raahon mein,
to kese pata chale intijaar kiya hota hy.
---
Payaar Aur Baarish Dono aik Say Hote Hein,
Fark Sirf Itna Hy Ke Baarish Ke Saath Reh ker,
Tun Bheeg Jata Hai,
Aur Apne Payaar Say Door Reh ker Aankhe Bheeg Jati Hain.
---
Jaan say jiyaada chahte hein Aap ko,
her khushi say bhi jiyaada mangte hein Aap ko,
koi kahe pyaar ki had hoti hai,
to us had say bhi jiyaada chaahte hein Aap ko.
---
Kaun rakhta hy yaad naamo ko Log chehre ko bhool jate hein,
Tum samander ki baat karti ho Log Aaankhon main doob jate hein.
---
Tera Payaar hai Mera Sahara,
Dekhta hun Teri Nazro Say har Nzaara,
DiL mein Tere Payaar Ke Phool Khilte hein,
Milti hai Zindgi Jub Hum Tum say Milte hein.
---